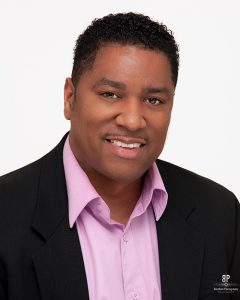 Jerrud Smith – Strategic Partner
Jerrud's career in TV and Broadcast Media spans over 20 years, including 10 years as a Photojournalist and Producer with WSYX-TV (ABC)/WTTE-TV (FOX) Columbus, Ohio as well as 8 years as a Sales Account Executive for WTTE (FOX) & Senior Sales Account Executive for WSFJ Television in Columbus, Ohio.
In 2000 New Vision Media Inc. Inc. was created providing Video Production and Marketing Services not only in Central Ohio but throughout the entire country.
Jerrud's list of accomplishments include covering national news events such as Hurricane Floyd, President Clinton, President Bush, The Heisman Trophy Awards, and behind the scenes of The Victoria Secret Fashion Show and just recently videotaped a segment for CNN Headline News which appeared on The Dr. Sanja Gupta Show. He is a 3 time Emmy Nominee for videography, as well as an Emmy Award Winning videographer for best feature story of 2003. Jerrud is an alumnus of The Ohio State University in Broadcast Journalism.
Castlebrook Media starting working primarily with Jerrud and his team at New Vision Media in March of 2012. From script writing to Directing the day of the video shoot, both teams collaborate on Castlebrook Media's Client's production needs.